Fun Foto Filler Friday: Team Picture
May 30th, 2008 | by: Greg |

Comments(39)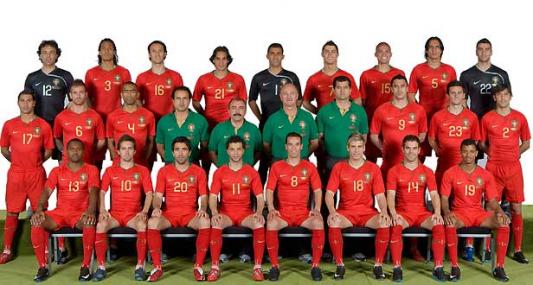 Photo: Francisco Paraíso/FPF
Front Row, Left to Right: Mike, João Moutinho, Art Deco, Simão, Petit, Miguel Veloso, Jorge Ribeiro, Nani
Middle Row, Left to Right: Quaresma, Raul Meireles, Bosingwa, Big Philly Style and Staff, holy God Hugo Almeida is huge (that's what she said ooohh), Hélder Postiga, Paulie Ferreira
Back Row, Left to Right: Quim, "Chief" from One Flew Over the Cuckoo's Nest Bruno Alves, Richie Carvalho, ugghhhhh, Ricardo, Cristiano Ronaldo, an advertisement for Pepe's dentist, Fernando Meira, Rui Patricio
The boys are facing off in their final Euro2008 tune up against Georgia (the country, not the American state) tomorrow in the Estádio Dr. Magalhães Pessoa, which is home to newly relegated Portuguese side União de Leiria. The match is supposed to be broadcast live on RTPi at 18:00 Lisbon time. It's going to also be repeated on Setanta Sports later on in the day.
I'm looking for at least a 4-0 ass whooping here. The losses to Italy and Greece (while essentially try outs and filled with injuries) may still be lingering somewhat. A good thrashing and comprehensive victory will go a long way to making the ride into the Alps a lot more enjoyable. That, and I hear Ronaldo and Nani are providing the "entertainment" for the trip. Força Portugal!
Subscribe

Portugal World Cup Blog RSS Feed

Share
Comments

I saw one of the new kits in a store recently and it looked way better in person than it does in the picture. This might give you a better look: http://www.soccernucleus.com/index.asp?PageAction=VIEWPROD&ProdID=785
I know numbers are given to certain players/positions for certain reasons but was I the only one surprised that Jorge Ribeiro didn't get the #18? And yeah, Almeida is a friggin tank.

It's about time our team enters an international competion saying the objective is for first over all and nothing else.

damn… if nani is indeed using #19 rather than #32, eurosport is gonna be getting a request for a refund from me…
and why is scolari starting washed-up gomes over quaresma??

i want to see portugal and france in the final for revenge. if it wasn't for that T. henry dive portugal should have been in the final against italy.
Posted from
United States

Andrew your right, the shirt does look better on that site.
But I still think the Euro 200o kits were the best. Our classic colors..
Posted from
Canada

yeah that's ma team, Deco you're ma man. Make the best out of it n be the Champ…
Cheers!!
Posted from
Fiji

@Marcos: numbers only go up to #23 in these competitions
+ Gomes is a centre forward and Quaresma is a winger. But it could work…
@Ceasar: also prefer the 2000 kit.
@M-C: To beat FRA in the Final would be very, very nice. To GET THERE and JUST WIN the Final, no matter against who, would be even better…
Posted from
Netherlands

Anybody knows if there´s a chance of watching the match (Georgia) online…?
Posted from
Netherlands

http://euro2008.videosport.com
it costs a few euros, but worth it, the streaming quality is really good, and no faffing about with dodgy p2p software
and incidentally the kit looks good in the game, i think at least…
Posted from
United Kingdom

Guys, we´re 2-0 ahead at half time.
Moutinho scored (superb volley) – playing very well – and Petit is also (surprisingly) doing a great game (good passing, good positioning, good judgement). CR almost scored (free-kick, his are great to watch) but for the rest we didn´t really see him (no space and always heavily marked but also it seems he´s saving the fuel). Simão converted a penalty and is playing good. Bosingwa is a Ferrari on the right flank. P Ferreira very competent on the left, not attacking as much as Bosingwa. Nuno Gomes, as usual, is nowhere to be found – let´s face it, it´s never easy to the PT striker. Deco also very good but apparently lacking pace.
Overall the team isn´t looking all that good but managed to squeeze (the always dificult) Georgia to their last 30 meters. Not a lot of options in entering through the mid, so the ball goes a lot from side to side. Good general organization still, Bih Phil´s strongest weapon.
We might now see half the team being replaced at half time and I´d like to see 2 strikers to really put the pressure through the centre. But I guess Scolari will play "the others"…
Posted from
Netherlands

I thought the team played fairly well in the first half, some very nice passing moves, and i'm sure that little bit of sharpness that was lacking, that will come with the competitive pressure, adrenaline, and extra week's prep, when we start against Turkey.
The second half i thought Nani, Quaresma and Raul Meireles played very well, though overall the team wasn't very good. I think Bruno Alves and Miguel Veloso had a shocking second half (Alves got caught out of position a few times, and completely outpaced by a not particularly pacy forward, and Veloso just couldn't tackle or pass, pressure's got to him evidently), and each of them has pretty much made sure they won't be startes at Euro 2008.
Worrying how Scolari still seems to love up Postiga so much….
Posted from
United Kingdom

Thanks Veiga. I managed through RTP online anyway…
So, second half…
We saw Ricardo, Carvalho, CR, Simão, Deco and Petit OUT, Quim, Meireles, Veloso, B Alves, Nani and Quaresma IN. Georgia pressing high and our midfield looking lost. The team couldn´t build anything really dangerous. 15 mins later, Gomes, Pepe and Bosingwa OUT, Miguel, Postiga and Meira IN. Only the defense looked solid, Quaresma wanting a spot in the starting 11 (going for it but still too eager and forgetiing that there´s 10 guys more). In any case, for me the best in second half still. 10 mins later Almeida IN and Moutinho OUT. So now, we´re in 442. The overall impression was that the game was worse, the midfield was somewhat lost, possesion play changed towards quick tranfers from defense-attack, but it didn´t yield much – too nervous. The team not playing as a team (Scolari in the flash interview said "in second half they all looked like they wanted to take the ball home"). Still several almost goal situations (we almost scored several times and Quaresma hiting the poste) together with some bad luck. But I couldn´t find any 442 or any type of system. Everybody was just too eager and forgot they were in a team. Nothing to worry about but the diference was obvious and the B team couldn´t score. That´s the fact. P Ferreira lasted the full 90 mins and looked he could do another 90, J Ribeiro and Rui Patrício didn´t play and Quim made a great save, preventing a goal.
Overall, I think we should have had another friendly. This time, we had 4-5 days less to prepare than in 2006 and 2004. Again, we´re not as strong as in the previous years. Defense was solid, Miguel was excelent, also in attack. Nani complaining a lot. Midfield was poor. M Veloso was the only I thought played really bad.
Posted from
Netherlands

Watched the game online…here are my thoughts. First half: overall as a team we looked good. Bosingwa and Petit played their roles to perfection. Pepe's height will prove to be a great asset in defending set plays. CR7 (weird ain't it) did his free kick thing otherwise was playing at half speed throughout. Deco better wake up we need him. Moutinho's goal was very pretty (juggled the ball to himself and slotted a goal) Nuno Goals did exactly what we thought he would do. Yet the crowd still applauded him heavily, Why? Paulo Ferreira is a tireless animal. Second half was the proverbial sh$tshow, as pedro said everyone wanted to take the ball home with them. Quaresma was banging shots all over the pitch and managed to hit one post. Veloso looked lost, we cant play a 4-5-1 let alone a 4-4-2 so why? Miguel and Nani we the best players on the pitch in the second half.
Posted from
United States

Guys Guys Guys Guys Guys Guys…. alright i know that Nuno has been out of form this year but I mean take a look at his track record playing for the national team… hes proven time and time again that he can score when the pressure is on… every player goes through a slump thats just the way life goes.. Y cant we all look at Nuno Gomes like we do Deco, a player who had a bad year.. when its all said and done its these guys who are goin on the pitch for us to watch them. Y single a player out when hes out there to help his and our country win us a championship which we so deperately need?
Just a thought.
Posted from
Canada

I had to miss the game but based off these performances who do you all think should start now?
And I took a look at the other scores and there were some pretty interesting results. Looks like Serbia gave Germany a really hard time for the first 70 minutes and France drew 0-0 with Paraguay. Also, Romania crushed Montenegro 4-0 (the Group of Death looks even more exciting now). I know they're just friendlies but these results sure have me excited for what will certainly be an interesting tournament!

in euro i rather see hugo almeida come on for gomes as a sub than Postiga
Posted from
United States

The number 7 should've been retired for good! I was shocked when I read that Ronaldo would wear the most famous of all portuguese numbers!!
Ethan
porko83@hotmail.com
Posted from
Australia

Ethan, I'm not sure but I think that every squad needs to be numbered from 1-23 for the Euro. You cannot retire numbers in international football. That's why Ronaldinho wears #10 for Brasil and Riquelme wears #10 for Argentina….if anyone deserved to get their number retired it was Pele and Maradona.
Ronaldo was the logical choice for #7

Great Moutinho goal: http://www.youtube.com/watch?v=YaoDzBv6Jsg
Posted from
Netherlands

And the two goals, with slightly better image: http://www.livesoccertv.com/Portugal-vs-Georgia-soccer-39654.php
Posted from
Netherlands

viva porto

After some careful searching on the web, I found this video of Mourinho giving his two cents on what went down with the national team on Saturday vs. Georgia…it's in Portuguese, but you can find my translation in the comments section…
http://video.google.com/videoplay?docid=5196692179454142749&q=rick+roll&ei=1pFDSJ30A5O0rgK9wcyPCQ
Posted from
United States

I WANT TO SEE PORTUGAL THE WINNER EURO 2008
Posted from
Australia

Portugal has a very talented team, they just need to remain aggresive throughout, have some good fortune go there way, and it all comes together finally!

WISHING TO WHOLE OF THE PORTUGUESE TEAM STRENGTH,CALMNESS AND IM SURE THEY WILL PRODUCE A VERY GOOD TEAM AND WORK TOWARDS THE 2008 EUROPEAN CAMPIONSHIP IM A FAN AND I KNOW THEY WILL DO THEIR BEST AND THE PORTUGUESE PEOPLE ARE THE BEST FANS NOW AND FOREVER ITS GREAT TO BE PART OF THIS GREAT TEAM ALL THE BEST FOR TOM…………
HUGE HUG TO YOU ALL
LURDES PAIVA
Posted from
Portugal
Comments are closed