Euro 2012 Prediction
June 6th, 2012 | by: Paulo |

Comments(18)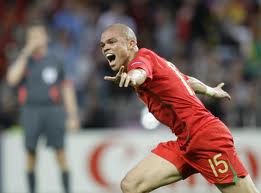 Portugal's most outstanding player (s)
I've said it before and I'll say it again. Pepe is and will always be our most important player in the squad. He can influence the game so much when he is on form and if he can contain Gomez/Bedtner/Van Persie, we will have a great chance. We saw how he single handedly took Dzeko out of the two legs in the playoffs, and I know he is capable of it again. If he can attack the ball and break up the midfield with confidence in Alves and Veloso to cover his back, we can stifle our opponents. Either way I think Pepe will have a terrific tournament because it may be his last in his prime as the center back turns 30 early next year.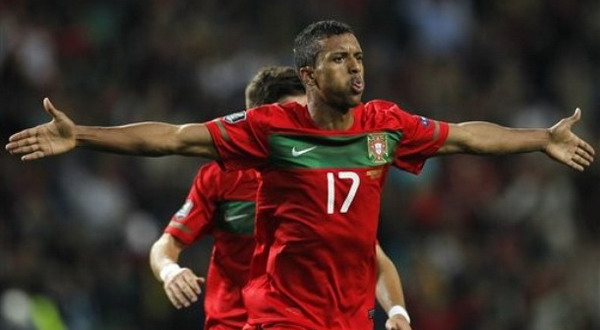 I also have Nani as my most outstanding player on offense. He has had terrific games for Portugal in the qualifying campaign and after missing the 2010 world cup, he is chomping at the bit to prove what he can do for his country on the biggest of stages. He is very capable of carrying a team also with one of his wicked shots from outside the 18 (see qualifying game vs Denmark/2nd leg playoff vs Bosnia), so Nani is certainly one to watch. His passing is also underrated.  He has led Manchester United in assists over the last two years and created a few in this campaign.  I just hope this foot injury won't hinder him too much and I don't think it will since he took part in most of the training today with the team.
Our leading scorer in the Tourney
I have a good feeling Ronaldo will bring his scoring boots with him. Over his last few qualifying/playoff games with Portugal he has been at the right place at the right time like he so often is with Real Madrid, for some easy goals. But also he has hit some dazzling free kicks for the national team lately, so that is also something to watch. I just hope he doesn't try to do too much like he so obviously did in 2010.
He needs to trust his surrounding players and the inclusion of Nani on the other wing will certainly help.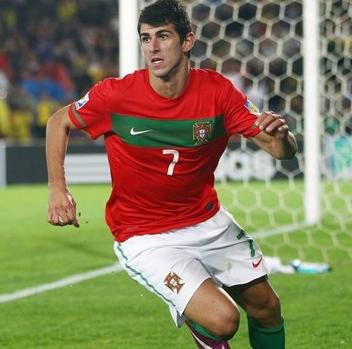 Impact Substitute
This one is hard to call since our bench is just so thin. But I have a strong feeling Oliveira will get a chance to make a name for himself, and he will deliver against a Denmark or Dutch side. I'm almost sure Postiga will start, and after Hugo's poor showing against Turkey Nelson should be the first option off the pine. He played well against Turkey when he came on and his direct play can cause team's problems since they don't know what to expect from the youngster. He has the pace to beat centerbacks and he is adept at making smart turns on goal. He just needs to get stronger in the air, but Nelson could be our impact substitute.
This summer's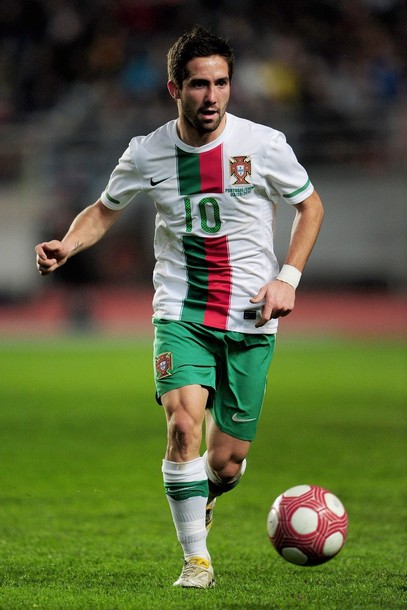 Coentrao
We all remember how much Fabio Coentrao's stock went up after his stellar performance in the World Cup. So who will it be this year? I have to say it will be Moutinho. Most of the media is pointing to our midfield as our weak spot in the team other than at striker, and I think Moutinho is extremely underrated. He played a big part in Portugal's qualifying turnaround once Bento brought him back into the team, and his terrier like play can really make a name for himself this summer. He can also orchestrate our offense with pinpoint passes and through balls. His play will influence our teams results more than most know.
MVP of the whole tournament
I think Del Bosque will give the nod to Fernando Torres at striker for Spain and he will deliver like he always has for his country. He has struggled mightily over the past year or two, but this sets up perfectly for him to climb back to the top of the world. Don't forget he scored the game winner for Spain in the Euro 2008 final.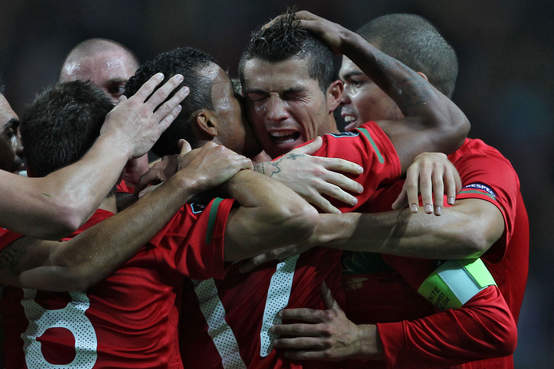 Prediction
I really do think Portugal will get out of the group, and actually come out in first place following a surprising win over Germany in the first game. I think that will set us up with a quarterfinal matchup against hosts Poland and we will scrape out a win against the hosts. Then that will set up a very thrilling semi final matchup against France. From there it is up in the air, but I wouldn't be surprised if we are able to get by them to face Spain in the final. (wishful thinking I know, but you have to believe!!!)
Subscribe

Portugal World Cup Blog RSS Feed

Share
Comments

With a stubborn coach who can afford to keep Carvalho and Bosingwa out and who keeps selecting Postiga, it is clear we will not go far and will more likely not get out of the group. What the Portugal team needs is to adopt a siege mentality and think the whole world is against them, which is not entirely false considering most neutrals hate the Portugal team. They need to think they are playing against the whole world and use it to unite the team and as a motivation to play as team and for each other. They could start by using the Bild's comment about the team not making Germany scared as motivation. The talent is there and if they can play as a team and don't make silly mistakes in defence and goal-scoring, they will go very far in this tournament.
Posted from
United Kingdom

We will finish 2nd in our group…ahead of the Dutch, but behind the Germans.
Next up: Russia in the quarters. This can go either way. They are more than capable of beating us, and vice versa.
Suppose we beat Russia…we then face Spain in the semis and that's where our journey will end.
Forca Portugal!

@Monarchist
I must agree with you with your neutral fan observation. IT seems those who cheer for a team not in the Euro seem to cheer aginst teams rather then for teams. Teh two teams that most say they loath are Italy and our beloved Portugal. I waa speaking to a elderly couple from Norway last weekend and when they saw my Portugal flag they gave me the thunbs down so I thought I would ask them why. They have not forgiven us for out antics in teh WC in 2006. Also I have spoken to many others who seem to think our win at all cost mentality is a bad thing for the sport. The funny thing is Spain had now adopted this same approach and have had success.
@ Paulo….Wow what a insanely brave prediction to make the final. Although I too can see a result from the german game and perhaps if the Netherlands have little to play for in teh 3rd match we can tak eadvantage of their subs. But a final is too brave a prediction for me although I would love to see the money odds on that one.
Posted from
Canada

I agree with you Eusebio. I also love the hypocrisy regarding 2006. They criticise Portugal because of the match against the Netherlands and England but were all quiet when Henry dived to get a penalty against us in the semi-final. The same Henry who was then criticised for his handball against the Irish. And they never criticised Boulahrouz who started everything with his murderous kick on Ronaldo and the Dutch player who failed to give the ball back to Portugal after the Portuguese kicked it out so that some Dutch player could receive medical treatment (the incident where Deco was yellow-carded). Yet they all criticised the Dutch for their antics in the final of the last world cup. Despite this, they still feel like supporting the Dutch. And of course the Barça and Real Madrid players are much worse but all the antics by non-Portugal teams are quickly forgotten in the quest for shooting down a team from a small and poor country of just 10 million people who have given FIFA players of the year such as Figo and Ronaldo and who have vastly over-achieved.
Posted from
United Kingdom

Also, a French ref for the match against France neighbours Germany. Should have been Howard Webb because he is always impartial on Portugal matches. No doubt we will also get a castillan ref for the match against the Netherlands.
Posted from
United Kingdom

ALthough I also think we have been slighted by a few minds there are two instances that go against yout theory Monarchist. Firstly the netherlands player(Cant remember his name) was completely destroyed in the media after his high kick against SPain, however in 2006 we did teh exact same thing if not worse to Van Persse in the penalty area that went unnoticed when really it should have been a red and a penalty and would have led to defeat. IN fact after the match very little was said about the tackle yet we all focused on a thigh tackle on CR7. NOw I think its easy to admit now that we were a littl hypocritical on that one.
HOwever when discussing with the Norweigen couple about that World cup I flat out defended CR for his involvement in the Rooney debacle as well as pointed out the henry flop. However the one instance I could not defend was the Figo dive when he grabbed his face and started to flop like a fish. I still have a hard time thinking of Luis without that bad memory overshadowing his brilliance. ITs upsetting too cause I felt he should of retired from the national team after 2004 cause I thought that extending it would almost just have a negative impact which it did. NOt as drastic as Zizu but still a final taint to an otherwise top notch murel.
Posted from
Canada

Lets not get all caught up in the refs. THey will not determine our fate.
Posted from
Canada

It would be quite a tournament if Portugal comes out on top, I know many who would love to see just that. I also found this site to be quite entertaining with all the teams and predictions of the tournament http://www.euro2012predictions.com

portugal will win it all finally a website who is not stupid and only thinks spain or germany its going to be portugal mark my words

What an arrogant and provocative player that Podolski chap is. On top of suggesting Portugal will lose 2-0 on Saturday (not even Ronaldo or Nani suggested a score) he says his team will stop Ronaldo through 'controlled aggression' and 'tough tackling'. This is incitement to violence. Bad idea with the likes of Pepe, Meireles and Bruno Alves on the pitch. And a recipe for a Battle of Lviv, similar to the Battle of Nuremberg in 2006. After Podolski's comments and if the Germans come out making dirty tackles and being aggressive, I won't criticise the Portuguese players if they decide to retaliate.
Posted from
United Kingdom

@ Monarchist
Saying that retaliation to violent play is acceptable is exactly why we are hated so much. This is what is wrong with the world today. Everyone is responsible for their own actions.
Posted from
Canada

Let the Germans make all the ruthless tackles they want. The referee for the game is one that doesn't tolerate harsh tackles, but that can be bad for us too. I think he has given out like 10 reds in 30 matches or something like that.

Germany have the best team and depth in the tournament so if we even manage to steal a point.. I think that calls for a celebration. If we beat them? Then forget 'Group of Death' we're going all the way.
Posted from
Canada

Guys let's make a few things clear hear:
1- If we do make it through the group stages, whether that be first or second, then there is no reason why we can't be anyone in this tournament, even the "mighty" Spain or the highly tactical Italy.
2- Carvalho and Bonsingwa cases need to be close once and for all, and i refuse to include players who argue their coaches and prefer to just retire from international football than to try and make things work (NT >>>>> Carvalho and Bosingwa)
3- This is THE perfect group for us, in 2008 we had it easy for us, going into the third match already having a guaranteed entrance into the QFs. We paid the price of being too confident. This group will surely eliminate that feeling since i doubt we'll have an easy game in any of the three… actually i refuse to believe any of the 4 teams in the group will have an easy way.
4- Nani and Ronaldo in the front, Pepe in the back… our three talismans… of course all 11 players are important but those 3 i believe have the ability to change the way a match is going to the complete opposite direction with just one touch.
5- Again, i repeat, i am not at all saying we'll win this, but i find no reason whatsoever not to belief that we can actually pull off a decent, if not amazing, tournament.
5- I don't think Bento is the best coach Portugal ever had, but you have got to give him credit to what he's done to the team after CQ has left, if it wasn't for those 2 losses at the beginning of the qualifications, we probably wouldn't have needed to go into round 2 against Bosnia in the first place.
6- Talking tactics now will not do any of us good, what has passed has passed, and now we must look ahead for our match against the number one contenders of the tournament.
P.S: I'm not Portuguese, and I've been with this team for exactly 9 years now (before the Euros 2004 even started) and yesterday I finally bought my first Portuguese jersey with our captain's name on the back… and tomorrow i know for sure that i'll be wearing it with pride. Forca Seleccao Das Quinas.

beat* instead of be in the first second line. -_-

@ahmad Much respect for you, brother.
Oh and by the way, I predict a 2-1 win over Germany, 2-0 win over Denmark. And 2-2 tie against Netherlands.
P.s: Lets all hope and pray that Nani is capable of playing tomorrow, If he doesn't, Im not so sure we can pull off a surprise victory, but you never know in football.

the Nani thing has to be a mind game… Oh God i'm hoping it's a mind game and yes we can pull off the miracle.
Out of Topic: Russia were exceptional today i really enjoyed their game and if we happen to pass round 1 and meet them they'll be a lot tougher than we thought. BUT I WANT GREECE… nothing will make me happier than to beat Greece :@

Thank you Varela! Ronaldo, get your act together. I don't care how many goals you score RM. Try scoring some for your country. I will wear Potugal Euro 2012 shirts to cheer you on at the game!
Posted from
United States
Comments are closed