EURO 2012 Right Around the Corner!
May 3rd, 2012 | by: Paulo |

Comments(8)
The countdown is officially on! Can you believe it's only 5 weeks away until the Euro's are underway? It's hard to imagine, but things are about to heat up in international football. I can't wait to hear that first Portuguese National Anthem when we take on Germany June 9th.  It will be a sight to see.
So what progr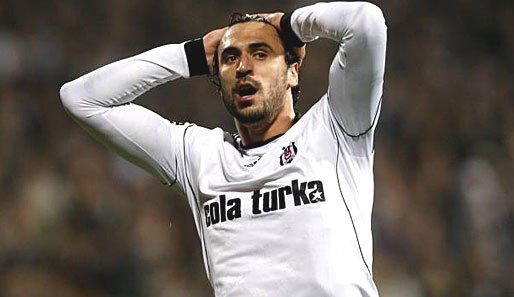 ess have our player's made recently? There have been many ups and downs in the Portugal squad, and Mr. Bento is going to have his work cut out for him when choosing his team to travel to Poland/Ukraine in a couple weeks time.  Let's start with our forwards and wingers.
We will start out at striker. It is unbelievably hard to judge who should be our go to guy up top this summer. Hugo Almeida has come on recently for Besiktas, pushing his goal tally to 10 on the year in just 22 appearances. But like I've said before this is the Turkish Super League, and it is no where near the caliber of La Liga where good old Helder Postiga resides. Postiga hasn't done quite as well on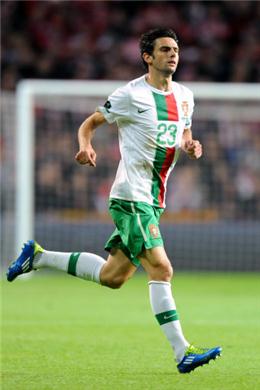 the scoring end, just 7 goals in 31 games, but he has played great in other areas of his game to pull Real Zaragoza one spot from being out of the relegation zone. Postiga is certainly a smarter and more efficient player, and I just think he raises his game when surrounded by our other Portuguese players on the national team. Almeida seems to be the perfect late substitute that can change up the tempo of the game and bring in some needed physicality when we need it. For example he may match up much better against the tough German side we'll face, but the quick pressure defense from the Dutch and Danes suits better for Postiga. Either way it isn't clear cut even now who will start, but with the recent good performances by Postiga on the national team, he seems the likely of the two to lead the attack.
Cristiano Ronaldo has played unbelievably well as usual this year for Liga winners Real Madrid. What's even better news is that he scored two great goals against Bayern Munich in their CL semi final match. Yes, I know he missed the penalty in the shoot out, but that could happen to anyone. He worked Lahm for a good portion of the game, but he did fade away later in the match which was worrying. Bayern has quite a few German players like Real has Portugal players, but there is no way to predict the matchup this summer based on that game, so lets not get ahead of ourselves. I'm going to concentrate on the fact that our captain has 62 freakin' goals this year and Bento has been able to bring the best out of him when it counts.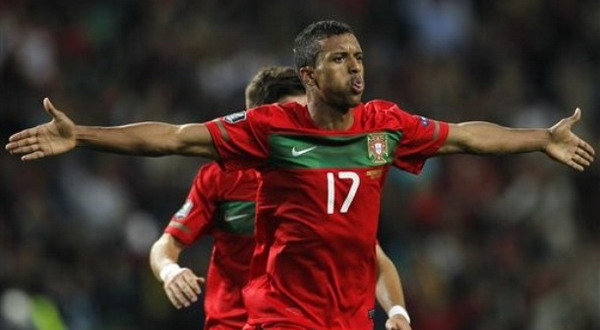 Nani on the other hand has definitely been struggling with form as of late. He struggled through an ankle or foot injury between March and April and has just returned to the starting eleven a few weeks ago. Most recently his performance against Manchester City was a little worrying. His touch was off at key moments and his decision making on the ball wasn't always very good. However, Nani put in a great year for Man U all around with 12 goals and 13 assists. As long as he can stay healthy I have no doubts that Nani could be the man to carry us deep into the Euro's this summer.
Quaresma has endured another decent year for Besiktas. Like usual, he displays flashes of brilliance going past two and three defenders like they are standing still, and then making boneheaded mistakes that leave you scratching your head. Either way, I feel Quaresma will be a vital piece for Portugal this summer coming off the bench especially now that Danny is ruled out of the competition. I have to assume we will be playing more of a counter attacking style against Germany and maybe even against the Netherlands, and Quaresma fits the mold perfectly for that. A wave of Nani down the right for 70 or 75 minutes followed by a wave of Quaresma can be very dangerous. Also, when Quaresma has his crosses going well for him, there is no one better. Couple that with Almeida charging down the center, and we could potentially have a real threat at the end of the game that could save our tournament. I just hope Bento picks him, because in the end I don't think he can afford not to.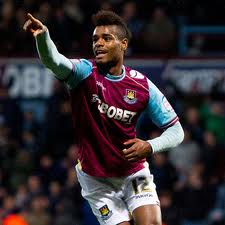 There has been some serious buzz surrounding Ricardo Vaz Te, the 25 year old striker for West Ham in the English Championship. He has 20 goals in 37 appearances, which is definitely worth raising an eye brow at……but raising an eyebrow is all. We are talking about international football, one of the biggest stages against the best teams in the world!! It would all happen far too quickly for this guy and honestly he isn't worth taking up a spot on the summer squad. Now if West Ham gets promoted and he scores something like 10-20 goals in the Premier League, then yes I would say definitely give him a chance. But come on people, this is second tier football, and we're talking about the Euro's here. Slow your roll, Postiga and Almeida aren't that bad are they? ☺
Which also brings me to Nelson Oliviera. I want him to be the next great Pauleta like the rest of you do, but I just don't think he has gotten enough time with Benfica or the national team to truly prove himself. He has no ceiling when it comes to his potential, but at just aged 20 I'm not sure he's ready for the Euro's yet. Another young striker I've been desperately waiting for to blossom is Orlando Sa. He has just seven appearances this year for Fulham, and has been unable to crack the starting 11 and get consistent playing time. He has a lot of pace and a wicked shot, but like his predecessor, hasn't really gotten the chance to prove himself yet.
Now, it would be foolish to go to the Euro's with just two strikers on the whole squad, so surely Bento will have to call on atleast one more right? Who do you guys want to see? Will it be Oliviero because Bento picked him for the last friendly, or will he go out on a limb with Vaz Te? I just hope he makes the right pick, or Postiga/Almeida make us forget we ever had a striker problem. Bento has some tough decisions on hand, but I think he will make the right one!
I will continue with midfielders/defenders later in the week, and hopefully continue to update you guys consistently all the way through Euro 2012. I completely understand that I have been less than accommodating to your national team news needs over the last few months, but things have been extremely busy and I had to put a few things on the back burner for a while. I hope you guys can forgive me and stick with the blog! Once again I'm sorry and I hope to make up for lost time if all goes well. FORCA PORTUGAL!!
Subscribe

Portugal World Cup Blog RSS Feed

Share
Comments

Perhaps a bit early but good luck Portugal!
I'm hoping for a match with lots of football and few delays (in any form
).
Posted from
Netherlands

To tell the truth i'm not that hyped about the Euros as much as i was a year ago… it's not that i lost confidence in the players but I've been struck by a lightning of reality not a long while ago.
We have to be realistic before heading into this tournament… our team is far from the best generation that Portugal ever produced (to me that would be the one from 2000 till 2006).
Our main talisman is definitely Cristiano Ronaldo, arguably the best player in the world this year and with a huge chance to take that award if he helps Portugal go big in the tournament.
Bento must build the whole team around our captain, not because he's "the star" but because he's the best. Period. Don't restrict the lad to only one spot on the field, give him liberty to go wherever he wants, let it be left wing, right wing, or straight down the middle. The Germany game will be tough for him, he might be shadowed by Lahm who is a world class defender therefore it's up to the other members of the squad to step it up in this game. As for the other two games in the group i am certain that Cristiano will shine.
Nani has been cursed with injuries with the squad but United have just one game remaining and if he can pass without getting injured in the final week i'll be more than happy. Nani is the only Portuguese player that i can bluntly say is better with the national team than with his club, and he's quite good with the club. His crosses have been tremendous in the few games he played for united and they will be key elements in creating the perfect header chances for the likes of Almeida and Ronaldo.
I really wanted Nelson Oliviera to take a part in the squad but like you said he lacks the experience and it's a shame really since he was phenomenal in Portugal's U-21 world cup campaign. The squad does not need players selected based on "what they are expected to do" they should be selected based on what they proved they can do with their clubs. Therefore, i have to say that I DON'T WANT NELSON TO TAKE PART IN THE SQUAD.
Also, we have the curious case of Ricardo Quaresma… i swear i haven't been baffled by a player as much as him… i mean just go on youtube and watch some of the compilations made about this players.. when in form he has MAGISTIC, but where did this form go?? Seriously i haven't heard anything about him since God knows when except for scoring a beautiful goal every 2-3 months or so (not enough for Portugal's standards). That's why i don't know what to say of him; he's way off form, yet we all know what he can do when he is in form.
Finally, the Almeida-Postiga debacle … i have written like 4000 letter essays discussing the sole striker position in Portugal's squad. 2 strikers, one the Turkish league the other in la liga, and both under performing (generally) for their team… DAMN I MISS YOU NUNO GOMES!!! So i'll say this: Almeida and Postiga must be called just for the sake that no other good experienced option is available and nothing else; and i don't expect them to create any miracles what so ever. I just want them to drag defenders with them and keep running leaving space for midfielders and strikers to try and aim for the kill.
Welcome back Paulo, looking forward for all your articles
FORCA PORTUGAL
Posted from
Russian Federation

I 100% agree with you Ahmad. However, I would also put Postiga into that category of playing better with the NT based on his goal scoring record. I believe he has almost as many goals in the qualifying campaign as in the whole la liga season, which is hard to believe, but ok with me if he can raise his game if surrounded by better players. Let's hope Meireles can find his goal scoring form again because we are going to need that X factor to step up this tournament.

I understand that the Seleccao isn't the most consistent national team in the world. We can be trashing Spain one day and then we can be held to a 0-0 draw against an inferior team the next day.
However, we do have the individual quality to win this tournament. Paulo Bento has been far from perfect, but at least we are winning and Ronaldo is consistently finding the back of the net.
With regards to who should start up front, I think that Helder Postiga has proven that he is our best option. He is far from a world class striker, and he can do very little on his own, but his selflessness, hard work off the ball, and intelligent link up play with Ronaldo and Nani suit our style really well. Almeida is stronger, but he's poor technically, not great at pressing, and he's way too wasteful in front of goal.
As for the midfield, Moutinho, Meireles, and Veloso will likely start since they played so well against Bosnia. I personally feel that Daniel Carrico would be our best option at defensive midfield when playing strong teams. He has been excellent in the midfield for Sporting, and he's much better defensively than Veloso.
Manuel Fernandes is a fantastic player, so he should definitely get called up. I would also call up Hugo Viana since he has been fantastic for Braga this year. His long passing is world class.
As for the defense, Coentrao, Pereira, Alves, and Pepe form one of the best in the tournament. Our only problem is depth. Rolado and Ricardo Costa are not good enough to be our back up centerbacks. We should use Aopel's Paulo Jorge who was brilliant in the Champions League. Braga's Miguel Lopes has also been very impressive, and he can play both right back and left back.

We need to create great harmony between the players… this is a team that will rely on pure speed in passing and running to overcome the defenses … without harmony i can assure you we'll fail in every counter attack we might create… that's why i want the NT to assemble as soon as possible, we had perfect harmony in the last world cup but CQ's terrible ultra defensive tactics blew it away… had he choose a more balanced one we would've surely had a different scenario…
can't wait for the coming posts, we need to be discussing midfield and defense soon.

Final list for the Euro 2012.
Goalkeepers:
Beto (CFR Cluj – Romania); Rui Patrício (Sporting CP); Eduardo (SL Benfica).
Defenders:
Ricardo Costa (Valencia – Spain); Fábio Coentrão (Real Madrid – Spain); Pepe (Real Madrid – Spain); Miguel Lopes (SC Braga); João Pereira (Sporting CP); Rolando (FC Porto).
Midfielders:
Raul Meireles (Chelsea – England); Nani (Man. United – England); Miguel Veloso (Genoa – Italy); Rúben Micael (Zaragoza – Spain); Carlos Martins (Granada – Spain); Ricardo Quaresma (Besiktas – Turkey); Custódio (SC Braga); João Moutinho (FC Porto).
Strikers:
Hélder Postiga (Zaragoza – Spain); Cristiano Ronaldo (Real Madrid – Spain); Hugo Almeida (Besiktas – Turkey); Nélson Oliveira (SL Benfica); Varela (FC Porto).
What do you guys think of Bento's final choices?

Oops, missed one name in the defenders' list
Goalkeepers:
Beto (CFR Cluj – Romania); Rui Patrício (Sporting CP); Eduardo (SL Benfica).
Defenders:
Ricardo Costa (Valencia – Spain); Fábio Coentrão (Real Madrid – Spain); Pepe (Real Madrid – Spain); Bruno Alves (Zenit – Russia); Miguel Lopes (SC Braga); João Pereira (Sporting CP); Rolando (FC Porto).
Midfielders:
Raul Meireles (Chelsea – England); Nani (Man. United – England); Miguel Veloso (Genoa – Italy); Rúben Micael (Zaragoza – Spain); Carlos Martins (Granada – Spain); Ricardo Quaresma (Besiktas – Turkey); Custódio (SC Braga); João Moutinho (FC Porto).
Strikers:
Hélder Postiga (Zaragoza – Spain); Cristiano Ronaldo (Real Madrid – Spain); Hugo Almeida (Besiktas – Turkey); Nélson Oliveira (SL Benfica); Varela (FC Porto).

I'm surprised that Manuel Fernandes has been left out. He's had a great season at Besiktas and would've been a promising option to come off the bench and launch the attacks through midfield. Carlos Martins or Ruben Micael I feel have not done enough and do not deserve to be in the squad.
Posted from
Canada
Comments are closed