EURO 2012 Squad Announced
May 14th, 2012 | by: Paulo |

Comments(38)
Paulo Bento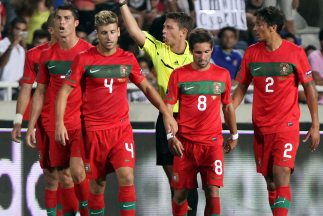 has named his 23 man squad for Euro 2012:
Goalkeepers: Rui Patrício (Sporting), Beto (Cluj), Eduardo (Benfica)
Defenders: Pepe (Real Madrid), Bruno Alves (Zenit St. Petersburg), Fábio Coentrão (Real Madrid), João Pereira (Sporting Lisbon), Ricardo Costa (Valencia), Rolando (FC Porto), Miguel Lopes (SC Braga)
Midfielders: Carlos Martins (Granada), João Moutinho (FC Porto), Rúben Micael (Real Zaragoza), Custódio (Braga), Miguel Veloso (Genoa), Raul Meireles (Chelsea),
Forwards: Cristiano Ronaldo (Real Madrid), Hélder Postiga (Real Zaragoza), Nani (Manchester United), Nélson Oliveira (Benfica), Ricardo Quaresma (Besiktas), Hugo Almeida (Besiktas), Varela (FC Porto)
No real surprises at goalkeeper. Beto and Quim were competing for the third spot, but the nod went to Beto. Eduardo and Patricio are a solid pair and I have a lot of confidence in Patricio as our goalkeeper.
Pretty typical choices at defender except for the inclusion of Braga's Miguel Lopes. I can see Bento's trace of thought as to why he chose Lopes and that is his versatility. With Silvio out and obviously no Bosingwa, I think Lopes was a better choice than Nelson, who was really one of the only other options available at full back. But let's be honest here, other than our usual four at the back, I don't want to see any other defenders on the squad see the field unless we are ahead and trying to shut down the opposing team. We all cringe at Ricardo Costa's name, but to be fair he finished the season very strong for Valencia, playing every minute of their last 11 games, and he played well. I would have to make him the first reserve CB ahead of Rolando.
Another Braga player, Custódio, has snuck into the squad at the last minute ahead of the likes of Manuel Fernandes and like I said earlier, Daniel Carriço. This is one that I can't understand. Fernandes is a proven player at the NT level, and has the ability to change the game going forward when replacing Veloso. Custódio is not nearly as solid as a defender as Carriço, and isn't as good a passer or scorer as Fernandes. This one makes little sense to me and makes us rely even more on Micael and Martins, which doesn't bode well. A lot of you also were probably hoping to see Hugo Viana get included also. Bento didn't think he fit well in the squad, but I can't see how. His playmaking ability isn't one we could afford to pass on, and since Martins and Micael's game is so similar, Viana would have been a good change up to throw in.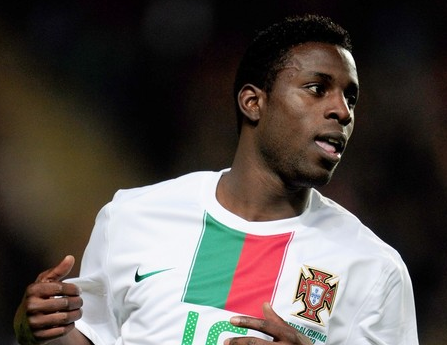 I am very pleased with the picks at forward. I personally like Varela even though he had a tough year, and am happy to see him back in the squad. It was nice to see Bento roll the dice at least a little bit with his inclusion of Oliviera. I hope he gets some minutes, because he is as talented as they come. Also, let's hope Quaresma brings his A game to Poland/Ukraine.
All in all I would give a C+ grade to Bento's picks. I was hoping to see a combination of Viana/Carriço or Fernandes/Carriço, but that was not to be. Let's just pray our usual 11 stay healthy and composed out on the field to avoid suspension because it is painfully obvious how thin our bench is. We may not love all of Bento's selections but now is the time to get 100% behind our team and give them all the support they need to be successful this summer. FORCA PORTUGAL!!
Subscribe

Portugal World Cup Blog RSS Feed

Share
Comments

great analysis Ivan, i can almost agree with you on every part of it. But i only change one thing, and that is to say that Denmark is our toughest opponents and not Netherlands, not because they are stronger, but because they have the psychological edge on us and they'll be facing us in the 2nd fixture which will very much be the make or break match for us (Given that we lose to Germany which could very well happen) also Denmark is the match that we "MUST" get 3 points from, 2 draws against the other teams would suit me very good. And in such matches the psych is on us, since we never felt that we could get the better of a team like Denmark. We already have an edge on the Netherlands from previous tournaments

@Jon as much as it hurts to admit it but your prediction does sound very likely, especially the suspension thing and having to play a big match like the QF or the SF without a good/average depth in squad!! I hate the suspension rules, Today we're gonna watch a CL final match with God knows how many players from both teams missing on suspension…. oh well, at least Meireles is well and rested to join the NT

Congrats to Meireles, Ferreira, and Bosingwa on winning the CL with Chelsea, let's get that winning mentality kicking into our players
(in this case it's only Meireles)

To be fair, only Bosingwa was truly european champion for Chelsea. I'm not sure the others should count, as they weren't even subs in the final.
That said… it would be amusing to see Bosingwa being champion for Chelsea and the other portuguese for Portugal. Though quite unlikely. But I've had the scenario of our players celebrating in Kiev pictured in my head since August-September 2008.

Ivan but don't forget Meireles was a key player for Chelsea against Barcelona especially in that Camp Nou match and he unfortunately missed the chance to play in the final due to a yellow card but he definitely played his part.
Bosingwa was really good yesterday i have to admit, but i still don't want him near the NT for the way he left his team behind.

@ahmad, that's true, but still it's sad that Meireles couldn't participate in the final.
News: Carlos Martins got injured, so Bento called Hugo Viana as his substitute.

Well I'm very disappointed with Paulo Bento's team picking.
Ruben Micael?!
What has he done at Real Zaragoza? They struggled to stay in La Liga. A mere 2 points separated them from relegation. He never did shine and made a difference. An average player at best. Hugo Viana and Manuel Fernandes are far better options.
Nelson Oliveira?!
He scored one goal in the CL (lucky deflection) and never really made the SLB squad. Are we trying to promote him for Benfica? João Tomás with 11 goals this season far more deserved it. I know he is of some age but we are talking merit here. I'd even prefer Vieirinha who has played very well in the Greek league.
Ricardo Costa!!?
He's just so bad I can only imagine he must absolutely shine at kissing ass. How else can I justify the last two coaches calling him up? Daniel Carriço any day of the week.
Eduardo?!
Yes I know he is sort of a regular, but I'm just against bench-warmers making the national team. Quim… on merit. Simple.
So much talk about who should be the striker when we have the world's top striker in our team. Have a look at the NT's last 4 games with Ronaldo and count the amount of crosses he made into the box. The fingers on one hand should be enough. When on the NT he's completely goal driven. Forget him as winger and get Nani + Quaresma/Varela for that.
I'm glad Hugo Viana made the team. Unfortunately it was at Carlos Martins' expense when it should have been Micael's. You can't control injuries. They just happen.
I TOTALLY understand Custódio. You need to have seen Braga play this year to truly appreciate his role. A very solid trinco. I think he would link very well with Moutinho and Meireles in Midfield. But if you want to give Meireles the defensive midfield spot and bring in Viana as playmaker I'm happy as well.
Miguel Lopes is also an excellent choice. Especially if you take into account João Pereira is most probably red-carded in the group stage and we will need Lopes to step in.
Posted from
Portugal

If we want to discuss the striker's position then we might as well spend ages doing so. Glad that Micael is out of this even though i must admit that i don't know who Viana is, but your words comfort me apparently he's a far much better option.
I'm against choosing players from weak teams unless they give an outstanding performance… how can someone like Postiga who seriously did nothing for his club be expected to make those crucial goals for his NT? Even if he did score the goals come this tournament i still it will be by sheer dumb luck cause logically he should not have been selected in the first place. Postiga failed to shine on the smallest of stages and that is the Zaragoza team, barely scoring 2 or 3 goals in an entire campaign, his team was a mess this season and i still believe that Bento would have still called Postiga for the team if zaragoza got relegated.
Maybe because postiga was so assured that he had that striker's position in the bag, he didn't bother himself to perform, which is again a huge mistake if that was the case.
bottom point, we have lousy strikers and we just have to cope with them for what should be the last time in a big tournament *fingers crossed*

bottom line* … i blame it on lack of sleep.

now the other question… how do u think our formation should be? should we have both strikers on the field or just one? and two defensive mids or just one? should ronaldo stick to a wingers position or have the freedom to circulate around the box in whatever way he wants?

I believe… if portugal has to go to the second round… they need to hold germans in the first game ( i.e a draw)… if this is done.. then there is a good hope of qualifying in to the second round, believe me… the first game holland will beat denmark.. so what happens is denmark's confidence goes down for the second match and portugal can play against them pretty well with a point in hand and can win this match.. when it comes to the next match germany vs holland.. the match should either go in any teams way… btw the holland has better record of playing well in the first round matches so they might play a bit differently with germans.. the last match portugal vs holland is going to be the decisive match… if portugal plays the first two match really well.. then it should not be difficult in facing the dutch.. the dutch on the other hand will look to settle their old scores in this match.. i believe before this match portugal have to sit in the drivers seat..

whatever the scenarios each has in mind we must all agree on beating Denmark… it's a must no matter what .. even if we do beat germany.
i expect:
draw/loss vs germany
win vs denmark
draw/win vs holland
netherland have amazing names in offense but their defense is the definite weak point and our wingers should have no problem at least crossing towards the attackers. Also Robben is extremely single minded, he loves to do the whole attack without giving a damn pass, which will definitely work in our advantage if he isn't in his perfect form.

Official: João Pereira signs for Valencia … excellent choice for a club to excel at… i hope he becomes a great player… valencia will offer more challenges to Pereira than Sporting so i'm Okay with this transfer.
In other news Bebe has officially returned to Man United, will he hopefully be good next season and maybe give his team and country a new option at a position they lacked so much??

I think if we are able to hold Germany to a draw, we will do just fine against The Netherlands. I'm just a little concerned about Denmark because they have a pretty decent team and we need to take them seriously.
Posted from
Canada

Today's friendly marks a special record for Cristiano Ronaldo, who will earn his 89th Portugal cap to become the 4th most capped player in the history of the country, overtaking Pauleta!

Yeah, and in a very lackluster home 0-0 draw against Macedonia (that I didn't watch, like usual, I'm always busy). They couldn't break Macedonia's defense at home? Seriously!?
At least all of our other competitors in the group lost. Denmark lost to Brazil 1-3, Germany lost in Switzerland 3-5 and Netherlands lost at home to Bulgaria 1-2.
But we should be worrying more about ourselves, right? Or not?

no no no no no no no no Ivan seriously we were very sluggish in attack but nothing to worry about…. there are a few points that need to be fixed but we shouldn't say that we sucked or anything… be positive we might just get the job done in the tournament.

i'll list the points in a few moments people…. stay tuned… if anybody is interested >.>

@ahmad, go ahead
Posted from
Netherlands

ok
the good:
1- Perreira: Not the best at attack and seemed to be shaky a bit but i loved his defensive methods, poised and didn't crack under any pressure (if given) from Macedonia.
2- Ronaldo: it was obvious since the first minute that he's the main man on the field… his shots were very close to target even though they were from a very far distance, and his freekicks were incredibly close… that means that this new Ball is working very well with Ronaldo as compared to the Jabulani.
3- Veloso: I love that guy.
4- Even when Ronaldo left the pitch (final 20 mins) Portugal kept attacking and holding possession… ok we weren't that effective, but that's expected in a friendly of such low caliber but what mattered is that we kept trying to make chances.
5- Almeida: he replaced postiga and i have to admit i was kind of impressed… i don't expect him to do major things but physically he was present and tried his best.
6- Nelson Oliviera: Still young … but he can just be our super sub in this tournament.
The bad:
1-the opponent: Macedonia are by no means the sort of team we should be facing as a preparation for the tournament. In many cases they seemed to park the bus and that tactic will surely not be used by any team that will face us in the Euro… in other words, i would've preferred to see a more open play from them so we can experiment preporly how Portugal functions on counter attacks… Macedonia i must say helped waste 90 minutes of our lives.
2- Quaresma: i may be biased here but i can't find anything positive about Quaresma… i'd love to be proven wrong but i'm just not seeing it… he played the entire match and i doubt that will happen in the Euro, Bento was clearly experimenting with him and Nani will surely be the regular winger, who played better in the 20 minutes that he came in. Quaresma makes me sad, he tries and tries and tries and you kinda feel that he wants to show his best but it just doesn't cut it.
3- Coentrao, I liked Perreira's defense much more than him. He worries me a bit, i can't call him world class yet, for he still does mistakes like lack of coverage and in one moment in the game in the second half Macedonia were on a counter attack with 3 players facing 2 from Portugal which shouldn't be the case had Coentrao kept his eyes open… luckily Macedonia's shot went wide, and a German would have had that on target for sure.
4- sluggish in attack: this is not something that worries me for i am sure that the boys acted this way just because a negligible friendly that isn't worth pulling the full gear for. yet, the number of mispasses in attack were numerous and they need to be more careful if they ever want to try and break heavy defenses… attacking from the wings and crossing into the box doesn't cut it with any of the 3 teams we'll be facing.
Our next friendly should show a more resilient Portugal.. fingers crossed, i am trusting our captain, players and coach from now on. Let the games begin.

i need to be watching the game again… maybe those thoughts could be fixed but as far as i see it, Portugal needed a much better opponent.
In other news, all the other 3 teams in our group lost their friendlies… again says nothing about our or their chances, but it's nice to see that they are all capable of losing
yet Denmark impressed me the most, they really were unlucky and could've scored 2 or 3 goals in the game and were able to really bother Brazil on several occasions… they should be treated with respect.
Come to think of it… it's impossible now to guarantee any of the four teams to pass round one… surprises are bound to happen.

You guys have never won anything and never will . by the way keep that terrible smell of cod fish out of our country Poland in a few weeks.
Posted from
United States

And what exactly has Poland accomplished in its illustrious history? SHIT? yeah i thought so too.

Just for the record: Portugal does have one trophy: the SkyDome Cup in 1995.

Oh… the SkyDome Cup!!! how could i ever forget!!!
Comments are closed