Portugal 4 – 4 Cyprus: This isn't happening!
September 6th, 2010 | by: Miguel |

Comments(30)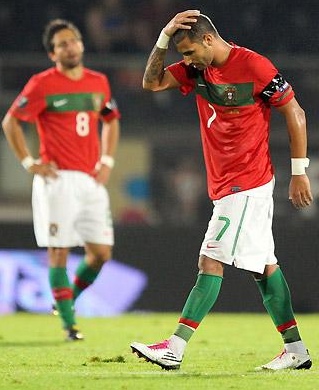 After spending 4 hours glued to my 32″ LCD to watch 2 absolutely dismaying performances by the Portuguese U21 and A teams I got all the joy kicked out of me. Had to drag my sorry ass to bed for a 4am start the next morning followed by a 2500Km car trip. I just couldn't get myself behind a keyboard and type up anything that wouldn't sound absolutely cataclysmic. My trip got inline with the mood the game had set as everything happened from a flat tire to a fender bender with an unpleasant French National, I could swear I heard him say "Les Blues" and "Belarus" in the same sentence… At least I'm back safe and sound and managed to spot some good things the game offered.
The good
If anyone had asked me to look at the positive aspects of the game after it had ended I'm sure my response wouldn't stray to much from a resounding "What the fuck are you talking about?! Remind me to never, EVER, waste another minute looking at these retarded morons running around in a Portuguese Selecção jersey!!", but (there is always a but lurking) as the dust settled I can actually recall some things I liked:
1) losing the holding midfield position against weaker opponents
I'll start with the toughest one to agree on. I've heard and read we probably lost the game because of it. We've played the 4-1-x-y formation for so long it almost qualifies as a national soccer tradition of sorts. Against weak or strong, it was one thing easily predictable.
After our South African adventure the river ran deep with criticism on our timid and fearful approach of each game. We didn't take the fight to the opponents' half of the pitch and instead held our ground in the back and let them come to us.
Taking out the holding midfield position (aka trinco) seemed at first an excellent move towards changing our traditional approach of the game. Unfortunately it didn't look as well on the pitch as it looked on paper. For it to work the gap left open needs to be covered by an advancing back line. And the new fortified midfield needs to be in a good enough shape to pressure the opponent as soon as they gain possession.
When Braga played Sevilha at home last month (Champions League play-off 1st leg) the first half was a good demonstration of this. Sevilha was all over Braga taking advantage of that gap between the back-line and midfield. Braga coach Domingos was aware of it and had 2 choices: (1) instruct the midfield to cover the gap and defend more tightly; (2) advance the back-line closer to the midfield. The traditional Portuguese coach approach demanded something along door number 1. I'm glad Domingos went for door number 2 and won the game 1-0.
All this takes time to sink in and unfortunately such luxury is hard to come by.
2) Ricardo Quaresma
He's back. He's mean. He's a effing dribbling machine!
And we have Ronaldo's injury to thank for it. He hasn't played for this campaign and already contributed immensely by getting himself on the injured list! Mind you I do want him back asap! Imagine CR and RQ running wild against the opposing defenses! Carnage!
Quaresma showed once again he deserves his place on the team. Most dangerous attacks went through his feet. He looks very confident and with pace to boot.
3) Hugo Almeida minus ridiculous back-heel
As he starts to look more and more like an interesting striker he goes and back-heel (or whatever that was) a fantastic opportunity created by Quaresma, instead of hammering it in to finish off the game. He did score a nice goal and got off some menacing shots (one headed away by a defender on the goal-line).
The bad
1) 4
Four frickin goals?! Are you kidding me?! That just can't happen! Brazil and Spain weren't bloody good enough but Cyprus is?! FFS!!!
2) Miguel
I'm sorry for having to single out one particular player but there is no getting around the fact I'm starting to understand why Queiroz didn't use him against Brazil or Spain. Cyprus's first goal came about after Miguel clearly gave up on chasing after Aloneftis. Just two minutes later he loses the ball against a Cypriot player (or lacks commitment trying to win it) in a very dangerous position. Cyprus's third goal has him standing idly by as Chralambibes runs past him, he doesn't know what hit him, but does share the blame with the center-backs. And where exactly was Miguel when the Cypriots leveled the score at the 89th minute? I have no idea. True Eduardo takes a good chunk of the blame but still…
3) The team
The pieces just didn't fall into place. Lack of pace due to lack of fitness. The players didn't seem committed. Danny isn't cut out for this role. Almeida does ridiculous back-heels. Coentrão takes Ronaldo's cue and joins his list.
4) Agostinho Oliveira, Carlos Queiroz
If you are going to try something new it had better be well trained. If it isn't… it shows. Sometimes very badly. Sometimes you pick up four from the back of your net. Sometimes.
Can one of you please take some responsibility instead of the crappy post-match statement: "We spent the last three days warning them about the dangers of the Cyprian team!"
Did you do any training during those three days or was it all about shouting: "BE CAREFUL! PLEASE! GUYS! I MEAN IT! BE VERY VERY CAREFUL!"
5) FPF
The Portuguese soccer federation is bordering something very ridiculous. They shouldn't even make the headlines. Just sit in the shadows and do their jobs. Instead it is all about getting the spotlight. Build on ridicule with more ridicule and retarded statements like "We can win this on auto-pilot.". How they have fought to shield the team from the media-circus is beyond me.
Most of what went wrong has been discussed extensively and I now just want to look to the future. And the future is in 17 hours and 30 minutes. We battle the Norwegians.
I'd like to see:
Eduardo
Silvio – Alves – Carvalho – Veloso
Fernandes – Meireles
Nani – Tiago – Quaresma
Almeida
If Silvio performs as I expect him to, then we should have an excellent alternative to Bosingwa (please get your ass back to the team asap!). Veloso looks like the best and only alternative to cover for Coentrão's absence. How I hope the later doesn't stay on that wretched injury list!
I'll give the Fernandes-Meireles duo the benefit of the doubt as I feel this system needs more time to sink in and is the correct way to go. Definitely Tiago for Danny.
Norway is without the excellent John Riise. I'm never glad when I miss the opportunity to witness great players at work. Even if they are from our opposition.
FORÇA PORTUGAL!
Subscribe

Portugal World Cup Blog RSS Feed

Share
Comments

reports show that if the NT draw or lose today, then aragonez is surely going to replace CQ as head coach…. that makes me confused about what scoreline i want to see today :S hopefully what happens today is for the best of the NT.

@Ahmad; if that report is true then I can settle with a 0-0 draw.
Anyway the line-up has been revealed, and Miguel got his wish.
Eduardo;
Sílvio, Ricardo Carvalho, Bruno Alves, Miguel Veloso;
Tiago, Manuel Fernandes e Raul Meireles;
Nani, Hugo Almeida e Quarersma.
Posted from
Netherlands

But even if these rumours are true and we draw, knowing our federation, they'll say the same minimalistic and loser talk of "we haven't lost a match yet", "there are at least 6 matches left", "we have all the chances to qualify", "we believe in Carlos Queiroz", blah-blah-blah-blah-blah-blah-blah.
And even with a defeat I don't know if that'll happen…
Either way, it' the best if we win and Aragonés is appointed [/dream mode].
Posted from
Portugal

hoping for that dream mode Ivan (fingers crossed)
Posted from
France

According to the Portuguese commentator we've never lost a match in the stadium we're currently playing. Now I know we're going to lose this. :p
Posted from
Netherlands

i don't have the channel that is supposed to broadcast the match apparently i will have to rely on livescore.com for then next 80 minutes or so.

We're just like France. *sigh*
They lost a friendly here in August by the very same way: goalkeeper.
Posted from
Portugal

I want to say Portugal is rubbish, but it feels like I'm insulting garbage. It's so poor, it's really sad to see.
Let's face it guys we're only going to qualify once every 20 years like in the good old days.
I honestly feel sorry for Ronaldo, the entire country expects him to fix this but he can't… football is a team sport.
Posted from
Netherlands

Or maybe if we weren't having such a chaos in the team and having at least Queiroz leading… Then I think we would have gotten better results. I'm not saying he's the best, but better than the one we have now.
Seriously, you can't deny that once Agostinho Oliveira started to manage the team, all this idiot stuff started to pop up in the field.
Posted from
Portugal

79 min
NOR 1 – POR0
Norway are not strong 'seems to me Portugal are poor!
Ricardo messes up massively, Quaresma is all flash and no product.nani was beter than him.Almeida scored but it was offside.
Posted from
Czech Republic

If this stays this way….I want Queiroz gone. Better to replace him now than in 5 or 6 months time.
Aragones, Hulk Hogan, Figo……doesn't matter WHO!

79 min
NOR 1 – POR0
Norway are not strong 'seems to me Portugal are poor!
Ricardo messes up massively, Quaresma is all flash and no product.nani was better than him.Almeida scored but it was offside.
Posted from
Czech Republic

It looks like it is staying this way….
83 minutes and counting…

89th
…..wave bye bye Queiroz.

Boo, boo, boo, we suck. We won't be qualifying to Euro 2012.
I also won't be watching a NT game until Oliveira is replaced (at least with Queiroz we barely conceded goals!) and this process stops.
Posted from
Portugal

Liedson just payed for his over-confidence.
Wasn't he the one who said we would be taking the three points from Norway?
Posted from
Portugal

It's over guys, it was fun while it lasted.
Posted from
Netherlands

fuck my life!
Posted from
Russian Federation

we still have to face denmark!!!! i'm starting to believe that what happened in 04 and 06 was just luck!!
Posted from
Russian Federation

Ricardo Carvalho doesn't seem to understand that it's not bad luck that leads to bad results. Guys, I stopped watching the game shortly after the goal, so I don't know if we really just dominated the chances. I looked up to the statistics, and we did dominate the shots, but off-target ones, that is!
Norway had 2 shots on goal while we just 1! Carvalho, let's forget for a moment of all these off-pitch problems with the team. I'll tell you: all you can't shoot properly, let alone finishing the chances. THAT's the 1st thing you have to work on! No, Portugal isn't unlucky! Stop using the same excuse every time! You (NT) are INCOMPETENT at scoring goals! That's the problem! [/rant mode]
@ahmad, life isn't all about football. I suggest you to follow my example: stop watching our team for a while at least, and follow more your other interests. It WILL get better, but for now we're getting through with a major crisis, that will last some time. So, don't kill yourself because of football. Focus your attention on something different and don't get desperate because of us losing a match, as important as it is!
Posted from
Portugal

Like I mentioned on my post on the other blog.
let's just all focus on club football. that way we'll all have a laugh and enjoy the South Americans tearing it up in the Liga.

@Ivan dnt worry i won't kill myself over a game of football
it's just i'm really pissed right now
Posted from
France

I was tempted to say 'at least we can root for Spain' but they're currently losing 3-0 against Argentina.
Posted from
Netherlands

I say let's root for France.
At least they have won…

Germany 6 – 1 Azerbaijan
Italy 5 – 0 Faroe Islands
Sweden 6 – 0 San Marino
Norway 1 – 0 Portugal
spot the difference and win 1,000,000 $
unless this result leads to CQ sacked and aragones (or hulk hogan as Miggy stated
) being placed instead, then i can't see any positive from what happened tonight, denmark are ahead with a game in hand!! and we're still in round 2 and already thinking about not qualifying and who are we gonna rout for instead (i'll have to go for england just because i'm a man utd fan, i hate every other thing that has to do with england).
i can't see what ronaldo's return can do with this team's hopes, it looks like people are going to expect miracles from him in a team so incompetent, i feel sorry for what's going to happen to ronaldo if he fails to make an impact in this qualification.
Posted from
France
Comments are closed