Portugal vs Germany Preview – Battle of the Titans
June 8th, 2012 | by: Paulo |

Comments(27)

Well it has finally arrived. The monumental first match against the German's that truly can make or break our tournament. I'm not saying that if we lose, we are finished, but if we can be competitive and get a result our players and fans can be proud of, it will be just the dose of confidence we need to pull off something special.
Everyone knows Germany is the favorite in this group and potentially the whole Euro's. And who can blame them? They came in third in 06', second in 08', and third again in 2010. They have one of the deepest and most talented squads in the tournament. Germany typically line up in a 4-2-3-1. Of course Neuer, their keeper, is world class. He leads Bayern Munich along with his teammates in the squad Gomez, Lahm, Mueller, Kroos, Badstuber, Boateng, and of course Schweinsteiger. Their midfield duo of Khedira and Schweinsteiger is a powerful one, capable of attacking and denying with ease. However, the real weapon we have to contain will be Ozil. Veloso will have to try and contain his runs through the midfield, which I'm a bit skeptical of, but hopefully Moutinho will be biting at his heels all night. Not to mention their wingers are pretty strong. Mueller is world class and tends to score big goals and since he usually plays on the right, it will be Coentrao's job to thwart him. Fabio needs to be careful as to how far he pushes forward with Tomas hanging out in the back waiting for that longball clearance to come his way. On the other wing, Podolski, who has already famously claimed an easy 2-0 victory for his side better be damn careful what he says. Pereirra has been climbing the ranks in European football with his late transfer to Valencia, and Poopolski certainly won't scare the former Sporting skipper. Up front it appears Low will give the nod to Klose at striker, with Gomez possibly coming off the bench.Yes, Klose has scored a crazy amount of goals, but I have a lot of confidence in Pepe and Alves to rough him up a bit and put him off his game.  Gomez is strong and very talented, but he hasn't always played his best in a German uniform, but we have to be wary of him of course.
Now for their weak spot. Yes, they have a weak spot and they know it, but they won't admit it. Defense. Lahm is a world class defender, but the fact that they need to play him on the left proves their lack of depth in the back. Nani will be attacking full force and I believe he can cause the Bayern man a few headaches. Their right back most likely will be Boateng. A big physical full back he is, but we'll see if he's up to the task to mark Ronny. Young Boateng has had some real struggles for Bayern in the center of defense, and he hasn't played on the right in some time so it will be interesting to see if we can exploit him or not. Their center of defense is where the question marks really arise. Most believe Badstuber will claim one position, and today I heard Low will roll the dice with Mertersacker. This guy hasn't played consistently since Febuary, and he looked downright shitty in their friendlies. He started alongside Hummels when they gave up 5 goals against non qualified Switzerland, so Low must pick his poison and it looks like he will go with Mertersacker.
The fact that Germany are a tad weak at the back should play right into our hands, especially on counter attacks. I think Boateng and Mertersacker could be over run by Nani or Ronaldo multiple times on the counter. We just need to strike and strike fast. Quick, decisive passes out of the back to spring our wingers and catch the German's on their heels. I truly think we can get them once or twice. The trouble will come in splitting their defensive midfield duo, but if we find space out wide we should be able to crack their shell.  Moutinho and Meireles have the ability to shred Germany on any given day, but they have to play smart and continue to work tirelessly to help out our backline.
Now there is no hiding that our defense will need to bring their A game. Alves had a rough game against Turkey that he needs to shrug off and the same can be said for Coentrao in some sort. If no mistakes are made and we remain organized and composed at the back we have the backline to stifle the German onslaught. Veloso needs to play with his head on a swivel and watch those throughballls.  Pepe needs to attack in the air and be the one man wrecking force we know he is capable of being.  Alves also has to be strong in the air, but also make the right choice on the ball.   Patricio has to shrug off that game against Turkey and be ready make quite a few saves.  A lot will be asked or our players but we all know they can deliver when it matters.
We can probably expe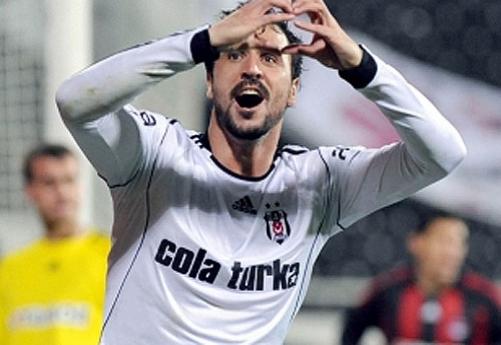 ct the usual starting eleven from Paulo Bento although I still don't know who we'll see at striker. Bento played Almeida against Turkey because deep down he knows he is the proper man to spearhead the German's, but his performances keep proving otherwise. Postiga isn't quite as lethal on the counter attacks or in the air and I have a feeling we won't be seeing a ton of the ball so it truly is a pickle for Bento. Helder did score against Germany back in 08′ which could sway Bento that way. Of course there is Oliviera, but Bento couldn't possibly start the 22 year old against Germany could he? In the end I just have a feeling Bento will roll the dice once and for all on Almeida. He can get to the crosses because we are going to have to attack from the outside, and he is arguably better on the counterattack. Whether he can actually finish or not remains to be seen.
Patricio
Pereirra—-Pepe—-Alves—–Coentrao
——Veloso—–
Meireles—–Moutinho
Nani—-Almeida—-Ronaldo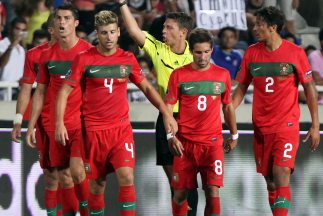 I've said it already, but I honestly think Portugal will pull these three points out and send shock waves across Europe. Everyone, and I mean everyone is counting us out. They will be sorry. Germany will come out flying and think they can push everyone forward to put us away early. However I think that is when we will catch them off guard and pull a fast one on them. Germany will then continue to put the pressure on and finally get an equalizer, and when they continue to pour men forward late to save them from an "embarrassing" draw, we will catch them again. I'm not sure why I have such a good feeling, but I do. I know I will be screaming my head off (and typing frantically in the comments section during the game) and I know you all will as well. It's now or never and we will live or die with guns blazing. NOW IS OUR TIME TO SHOCK EUROPE! FORCA PORTUGAL!!!
Subscribe

Portugal World Cup Blog RSS Feed

Share
Comments

I'm not sure where you guys see the news, but from what I know Nani's been healthy along. Maybe they're playing smart with the germans before even the kick-off?

My prediction: Germany 2 – 1 Portugal but we will give a very decent and respectable performance which will give us a boost and help us win our next 2 games finishing 2nd in the group behind Germany. So 2-1 it is and we turn the prediction upside down i'll be more than happy
My Portugal jersey is getting ready … less than 10 hours to go.
i hope the Danes and the Dutch draw each other that'll be perfect in case we lost.

http://www.goal.com/en-gb/news/3284/euro-2012/2012/06/09/3159574/maradona-cristiano-ronaldo-is-portugals-only-threat
reading this has made me conclude one thing… Maradona's analytic skills are worth zero. That was so frustrated to read i fear that all those negative comments from around the world would backfire on our players. those people need to shut up!!

Maradona is just trying to put pressure on Ronaldo because he doesnt want him to dethrone his precious messi. Our guys don't give two shits what he thinks.

Also from what I've been reading over the last few days Nani was back on the practice field by Wednesday and participated in training more and more by the end of the weak. In my opinion he will tough it out if he isn't close to 100% fit.

*week

Hopefully with a strong performance the "SELECÇÃO DAS QUINAS" can pull of a victory today I've had my jersey on since I woke up. I bleed red and green and if we do lose I still bleed red and green. Viva PORTUGAL Let's show the world what we can do today.

Correction. Looks like Gomez will start for Germany.

Denmark 1-0 Netherlands. Maybe this game is the one that will somehow really help Portugal reach the knockout phase? Hmmm

so much for Maradona's predictions. Already wrong with the Netherlands losing their match

Low has chosen Hummels to go alongside Badstuber in central defense. Very young and inexperienced at those positions.

Postiga to start up front for Portugal

Shame about the result… Germany scored through a deflected cross, that unfortunately ended up being perfect. We attack a lot, trivial chances aren't put away, etc. I'm sad, not devastated, but sad. We did fight, but as almost always, Portugal isn't exactly famous of being lethal. I really REALLY hoped that this time would be different. 2 balls in the german bar and Varela missing with the net almost entirely opened.
We'll only be able to through the group if we defeat Denmark in the next game. Their defense looks solid, as we saw against Netherlands… Hopefully (yeah, I'm using this word a lot these days) our finishing will be in better shape in 4 days.

Postiga starting … what a mistake, he was useless. Coentrao's best game in a long time. Varela should start in place of meireles next game as he showed some energy, he's at a different level even though he missed a huge opportunity to score. I realize it's different watching from the couch but that chance he had everyone sliding to the right, he gives a fake and has a wide open net, too bad he tried to force it. I found myself also saying "oh please just hit the net" as soon as I realized that ball had fallen so nicely for Pepe. Any other player probably buries that in the back of the net.
Defensively I thought we did very well, even with Ronaldo helping out.

I laugh at those who expected Germany to slaughter Portugal… any team could have one the match and both deserved it at some point… I AM PROUD OF THE PLAYERS, gutted that we conceded but i'm happy that we showed great Portuguese merits. Let's hope for the best and an extra piece of luck against Denmark and Holland.

Sick game. A great joy to watch. We only had issues up front with the finishing. Besides that, this team definitely surprised me today. We did really well and a draw definitely would have been a fairer result. Great signs from Portugal, excited for Wednesday

Wow Portugal actually impressed me, great tactics used by Bento and poor finishing has undone Portugal yet again.
What a different Portugal from last week.
Posted from
Netherlands

The only negative thing from this game was the result… i'm not gonna discuss the performance of any player today (even though there are some criticism that should be mentioned but i'll leave it till later), they all made me proud to wear that jersey today. I'm happy for the performance but gutted that we now face a must win situation… against the same team that outplayed Bento and the players in the last two occasions. Bento has a lot of work up his sleeve and he needs to find the perfect way to turn that defeat into something positive in the minds of the players who some admitted they were upset by the undeserved loss.
But hey… Portugal always fancied playing under pressure right? let's just pray and wait.

I think Portugal will make it out of the group with Germany and possibly meet again if both sides are clinical unlike today. This was tactically the highest quality match of the tournament so far, even if it was quite ugly. Portugal has one mean defensive midfield that shut down the German center. Let's face it both sides did not want to lose this. Germany would have been better if Gomez (17 touches) and Poldi were not so abysmal, and Portugal so if they had an actual striker.

Bummed, to be honest, we played well enough to win this match. I'm surprised how well we played, if only we had a striker or someone that could find the net??? What a shame!!!!
Defense was great! Midfield was good! Scoring opportunities were there but finishing was sh!t!!!! I really wanted to beat Germany, it would have done a lot for our reputation.
My only consolation is that I believe that were good enough to pull out two victories in matches to come and net a second place finish. I hope that I'm right?
Posted from
United States

We actually learned a lot from this game.
Tactically, Bento wanted to keep the score 0-0 until half time, forcing the Germans to take more risks in the second half, giving us more space to counter-attack. In the end, it almost worked out brilliantly, but we were just unlucky. The Germans only created one good chance in the game, and it was a lucky deflection off Moutinho. Portugal hit the post twice and Varela had a fantastic opportunity at the end.
Both sides were afraid of giving up counter-attacks so they used different tactics to do so. Portugal sat deep and prevented the Germans space while the Germans passed the ball cautiously in order to prevent Ronaldo and Nani from seeing too much of the ball.
However, once Varela and Oliveira came on, we were the much better team. Moutinho was able to play in his favored deep-lying playmaker role alongside Veloso which gave Nani the freedom of playing centrally. All of the sudden we obtained the central, creative threat that we've been missing.
Apart from his poor effort on goal, Varela looked really sharp on the right wing, and he linked up superbly with Nani. Oliveira also looked miles better than Postiga. His build up to Varela's chance was brilliant. He has Almeida's strength, Postiga's technical ability, but unlike Postiga and Almeida, he's got incredible pace and athleticism. Hopefully Bento will start him against the Danes.
——————-Oliveira———————
Ronaldo————–Nani———————Varela
————-Moutinho—–Veloso——————
Coentrao——Alves——-Pepe————-Pereira
——————Patricio———————–
I was actually not that impressed with either Denmark or Holland in their game. The Dutch defense looks extremely vulnerable, and their front 3 are very selfish. The Danes, in my opinion, were a little lucky to win, and I am confident that Portugal will be able to beat them. If Portugal beats Denmark and Germany beats a defensively weak Holland, we'll be able to get second place with a draw against the Dutch.
FORCA PORTUGAL!!!

Correct Jon but only if Denmark lose to Germany. We shouldn't think too far ahead though. The main focus to is beat Denmark. If we dont, were finished. Lets take it one match at a time.
Posted from
Canada

Is it just me, or do you all feel that no team has shown extreme superiority to be the absolute number one contender for the tournament? I seriously expected Italy to be thrashed in possession and outplayed in the midfield yet i was amazed to see something totally different!!

I think Portugal were quite intelligent first half but clumsy in the second and was very disappointed seeing them lose. I honestly thought we were the better team, but it was only because Germany played particularly bad. Podolski missed chances that should have been put away. Coentrao was amazing, I'm glad that he put on a great performance. I thought meireles was disappointing but its always hit/miss with him. I worry that now Netherlands will come with all guns blazing when we play them next and that the Danish will be beat us. They have twice in the qualifiers. Hopefully, Bento chooses the right tactics and our players work together.
Posted from
Australia

Thank you Varela! Ronaldo, get your act together. I don't care how many goals you score RM. Try scoring some for your country. I will wear Potugal Euro 2012 shirts to cheer you on at the game!
Posted from
United States
Comments are closed